A few rails can still be seen adjacent to Victoria Dock today but these were part of an extensive railway system. Laid end to end, the length of railway within Dundee Harbour would have stretched about 16 miles, a similar distance as from Dundee all the way to Arbroath.

The first railway to reach the Harbour was an extension from the Dundee & Newtyle Railway Company's Station in Ward Road through the town streets to the Earl Grey Dock. The extension built in 1837, was owned by the Railway Company but the rails within the Harbour were the property of the Harbour Commissioners.
Further rails were laid down as the Harbour extended eastwards until there was hardly a street or quayside which was not served with lines of railway. All the Harbour Railways were built by or for the Harbour Commissioners and leased to the various railway companies. The Commissioners never owned a locomotive nor a wagon. Companies large and small, public and private, took advantage of the rail system to add sidings onto their own ground or into their own premises.
Prior to 1906 the Harbour Commissioners jurisdiction extended to that part of the East Coast Main Line between Camperdown Junction and Carolina Port. As the Harbour bye laws stipulated a speed limit of 4mph, all main line services including express passenger trains were to be seen crawling along this short stretch of line in both directions. Another odd feature was that there was no signalling system albeit there were periods when as many as four locomotives could be seen working at any one time.
After World War One road motor transport became a cheaper alternative to traffic by rail. Consequently, many companies transferred to the roads but the change was slow. After World War Two one locomotive was generally enough to work the remaining traffic. The system finally closed down in 1982.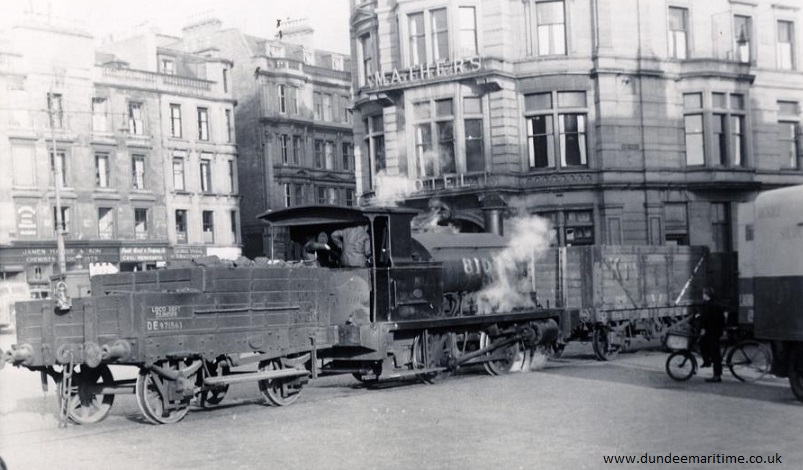 North Carr Lightship


HMS Unicorn
With thanks to historian James Page for this information.