A strong south-easterly gale blew over the north sea on the night of 8th December 1959
In the midst of that storm was the North Carr Lightship and it was starting to come adrift.
The lightship didn't have any engines of its own, all space below deck that would normally have been used for the engines were taken up by the machinery and power plant needed for the light and foghorn. With the vessel drifting from its intended position, The crew worked through the night to secure their anchor in the terrible weather conditions but for over four hours the North Carr was in imminent danger.
The coastguard spotted the lightship in trouble and alerted the lifeboat service- the Anstruther and Arbroath lifeboats were unable to launch but the Broughty Ferry Lifeboat, The Mona was able to put to sea just after 3am with a crew of eight men, the youngest member aged 22.
Fighting against heavy seas the Mona was watched from shore as it made slow progress out of the Firth Of Tay and after an hour had made it out past Buddon Ness. A shore based witness described the fleeting glimpses of the lifeboat as it continually disappeared amid the large waves.  The lifeboat continued on its way, out of the River Tay into more open water. At 4:48AM the crew confirmed by radio that they had turned southward and that the distress flares from the North Carr had been seen. That was the last message they sent.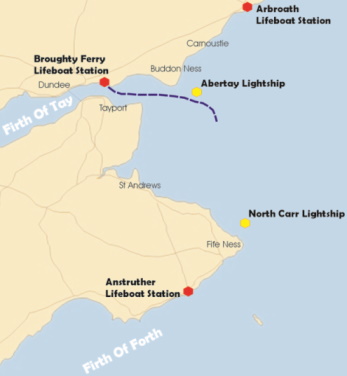 Later that morning the Mona was found by the coastguard washed ashore on the east side of Buddon Ness. It was later concluded that the lifeboat had capsized in severe weather and had been unable to recover. The bodies of seven of the crew were found with their vessel, but one crewman was never to be found.
The crewmembers were
John Grieve (snr) (aged 56)
Alexander Gall (aged 56)
George Smith (aged 53)
James Ferrier (aged 43)
David Anderson (aged 42)
George Watson (aged 38)
Ronald Grant (aged 28)
John Grieve (jnr) (aged 22)
A memorial to them can be seen on the gable end of the lifeboat shed in Broughty Ferry.
The North Carr: After many hours adrift, the crew were able to deploy another anchor to secure their ship and all were rescued by helicopter that morning. The North Carr is currently moored in Dundee's Victoria Dock awaiting restoration.
More information on the Mona story and her crew can be found on the Friends of Dundee City Archives Website