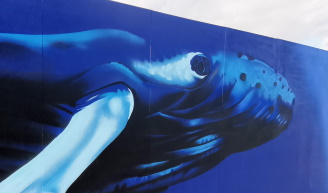 A mural by Adam Milroy depicting whales, including a painting of the skeleton of the Tay Whale which can be viewed at the McManus museum
Although now considered a controversial industry, in the 19th century Whaling was commonplace and conducted from many ports in Scotland. In Dundee it was vital for supporting the Jute industry as the whale oil was used for processing the raw fibre. More details about the whaling industry in Dundee can be found on the Friends of Dundee City Archives website.
During the voyages of the whaling fleet, new lands were discovered and new coastlines surveyed, including Dundee Island and the Firth of Tay in Antarctica (Wikipedia: Dundee island). The industry also supported the shipbuilding economy of the City. The RRS Discovery being built here to a design very similar to that of the whaling fleet which had already proven their ability to cope with the Arctic and Antarctic conditions.
Today, researchers at the University of St Andrews are studying the songs emitted by whales as they venture around the world's oceans.
The mural was commissioned by the City Centre and Harbour Community Council with financial assistance from Sustrans. It is located on Black Watch Parade which also forms part of the National Cycle Network (route 77) as well as the Dundee Green Circular recreational cycle route
Telford Beacon


 Waterfront Place